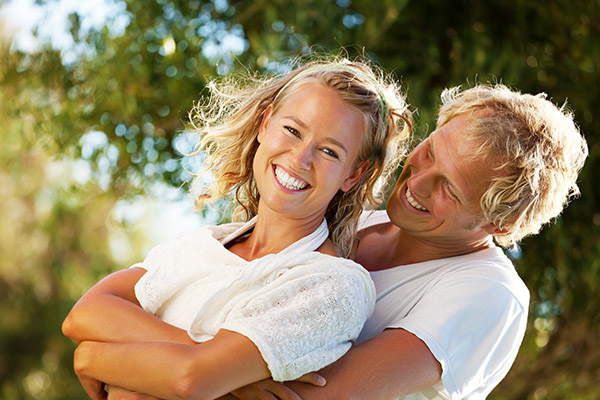 At Family & Cosmetic Dental Design, we have helped many of our adult patients that are looking for orthodontic solutions to straighten teeth. We have found that many of our Albuquerque patients have always wanted to straighten their teeth and improve their smile but have been leery of doing so using traditional metal braces. For many adults, the idea of wearing traditional braces is simply unappealing. With that in mind, we are pleased to offer clear braces and Invisalign® as an alternative to traditional metal braces.
There are several advantages to using clear braces to straighten teeth in Albuquerque. Among them is the fact that this solution is entirely discreet. Whether you are interested in pursuing clear ceramic braces or wearing Invisalign® aligners, people have difficulty noticing that you are straightening your teeth. This is appealing for any professional that needs to maintain a certain appearance at work or for those who are concerned about looking like a pre-teen in their forties. The good news is that no matter how old you are, we can use Invisalign® to straighten your teeth and give you a beautiful smile. To learn more about our adult orthodontic solutions call (505) 359-2289 and schedule a consultation with our Albuquerque, NM dental office.
Adult Options for Straightening Teeth in the 87109 Area
Invisalign®.
Family & Cosmetic Dental Design will often recommend Invisalign® for our adult patients that are needing a truly convenient way to straighten teeth. You cannot beat the benefits of Invisalign® because teeth are straightened using clear aligners. These aligners look like a full retainer and surround the teeth entirely. As such, your natural teeth show through while you are straightening them instead of people seeing an orthodontic solution. Since the aligners are removable, you can eat whatever you like without restriction. It will also be just as easy to care for your teeth as it always has been since you will not need to navigate around brackets and wires when brushing and flossing.
Clear braces.
Clear braces come in many forms. Very often, when you hear the term clear braces people are actually talking about Invisalign® aligners. This is the clearest way to straighten your teeth because nothing is actually permanently affixed to them. However, clear braces can also refer to clear ceramic braces where the metal brackets and wires are replaced with tooth colored ones. With this procedure, the technology and process are similar to that of wearing traditional braces, however, the solution is more discreet.
Benefits of Using Invisalign® Clear Braces to Straighten Teeth in Albuquerque, NM
No one can tell you are using orthodontics.
You will begin to see the benefits of your teeth moving into position before you are done with the orthodontics procedure.
You can eat all of your favorite foods without restrictions.
The aligners can come out for special events like presentations at work, attending your cousin's wedding, playing in a concert, or going for a swim.
You will have fewer dentists appointments than you would when wearing traditional braces.
Visit Family & Cosmetic Dental Design for Orthodontics and Clear Braces
Whether you are interested in wearing Invisalign® or cosmetic dentistry solutions for straightening your teeth, we can help. Call (505) 359-2289 and schedule a consultation to discuss the orthodontics options available to you from our 87109 dental office.
---
Related Posts
April 12, 2019
Dental problems can be painful and often times scary, but with the help of a dentist in Albuquerque, a person can have a checkup done and alleviate their fears whenever an issue does arise. In this …
---